First of all, Happy Holidays.
A little present for you now. I'm going to show you a quick and easy method to add diagrams to your posts.
It's much quicker than drawing them in Microsoft Word.
The secret is to use Mind Maps.
The software I use is called FreeMind. And it does exactly what it says, provides mind mapping software for free.
You're going to use it without all the bells and whistles, just to add nodes to show some kind of simple sequence in a visual fashion.
Here's what FreeMind looks like with a simple mind map displayed.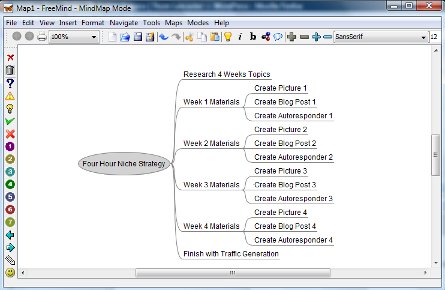 With FreeMind, and a bit of practice, you can get a diagram like this typed in no more than five minutes.
So, how do you go from this diagram to a nice image ready for the blog post?
Just use the PrtScr key to grab the screen and edit it with your favourite image editing software (I like to use GIMP as it's also free).
There you have it. A diagram ready to embed in your post.
Any more hints about successful diagrams. Look below to share them with us.