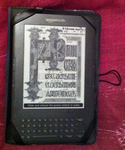 The Amazon Kindle is easily one of the top inventions of the past 10 years. A portable device which I can carry around with me, containing an entire library, and which will let me easily read my books wherever I go. Plus, I can read the latest heavy hardback books without needing to develop new arm muscles to hold the books up. It's a design miracle.
Whilst a lot has been said about the marketing opportunities for selling books on the Kindle (and those are great opportunities), there's another option which has been quietly passing people by. That's about developing simple games for the Kindle which will work well on the monochrome screen and operate within the Kindle's e-ink screen refresh rate.
Here are four types of games, all simple to develop, which sell like crazy on the Kindle. These are perfect to use as idea generators for the types of games that you can develop.
Game Type #1 – Newspaper Puzzles
I'm using newspaper puzzles to reflect those types of puzzles which you could find printed in any daily newspaper. For instance, these include crossword puzzles, Sudoku and variants like KenKen, Cryptograms and word searches. These dominate the top Kindle active content listings.
This is an excellent market to get involved in, as you can write software to generate many of these puzzles (or use existing software to produce them). Create an appropriate interface, and you can sell the results in bundles of 50 or so puzzles. You can release multiple volumes all powered by the same interface, or look at ways to classify the puzzles by their difficulty level. This will increase the market that you can reach using this game type.
Game Type #2 – Card Games
There are thousands of card games out there with instructions in the public domain. Each each one of these could be converted to work in the Kindle format.
A good place to start is with solitaire games. Those games that require more than one player can also be implemented with some simple artificial intelligence. There are also various gambling type card games available on the Kindle, such as poker and blackjack.
Just because there is already a version of a particular card game on the Kindle doesn't mean that there isn't room for another. It can be made into a better playing experience, or priced more competitively than the competition. You can also bundle card games together. At the time of writing, there's even a request for a version of Bridge to be produced for the Kindle, which is an excellent opportunity.
Game Type #3 – Choose Your Own Adventure Style Games
This is a type of game that doesn't dominate the Kindle charts, but does have a sizeable audience. These are based around the idea of the Choose Your Own Adventure books, which were very popular in the 1980s, but have had a resurgence since then. The books are structured initially like a standard fiction novel, but every so often the reader is presented with a choice (will you open the door and face the horrors behind – or will you drink the green bubby potion that you're carrying in your backpack?). The choice directs the reader to a different section of the book, and then they find out whether or not their choice was a good one.
This style of book is ideally placed to bring to the Kindle, which can handle the different choices and displaying the subsequent pieces of text automatically. The book doesn't even have to be very long and this can be an excellent creative opportunity for the right writer. It's also well worth developing a simple interface which can be used for multiple books.
Other books of this type which have been converted for the Kindle include the Fighting Fantasy and Lone Wolf series. These add elements of chance to the outcomes and choices, increasing replayability, but without the need for the reader to carry dice (again, this is handled by the Amazon Kindle). Some people might also know this game type as interactive fiction.
Game Type #4 – Strategic Kindle Puzzlers
I want to differentiate these from the newspaper style puzzles already mentioned. These are more standard puzzle games of the type you might see sold as a simple game for a mobile telephone, or which were very popular in shareware type game releases around 20 years ago. These could be as simple as jigsaw type puzzles, or ones where blocks need to be moved around to create a pattern. There are examples selling well in the Kindle store which involve clearing a path for a ball to move, or a robot to reach its destination.
The best type of puzzle games involve a number of levels where players have to think and consider their moves carefully. A game like Angry Birds, very popular on other platforms, embodies this view, where players have to launch a bird at a selected trajectory to cause a desired result. Generally each level needs only to take a few minutes to play, but the difficulty between levels should increase, giving the player a reason to try and get through all the levels and reach the end of the game.
More Kindle Game Ideas
One thing that's well worth doing it visiting the Kindle games store and checking out the types of games that are selling the best right now. Generally, these are swayed slightly by the short-term promotions that Amazon offers on certain titles, but you can always browse the newest releases and their reviews. You may also want to view my guide, Kindle Game Creation Manual, which provides more detail on the whole game development process.
The four types of games I've listed here are all excellent starting points for your own development ideas.
Your Thoughts On Kindle Games
As usual, I'd really like to read your thoughts on the Kindle game market.
Do you think that these are the best types of games to develop? Are there any that I've missed?
Have you had success publishing a game for the Amazon Kindle, or do you have plans to do so?
Just use the comment box below and you can share your thoughts with all the blog readers and me.