As you probably know, a list is pretty much the lifeblood of an Internet Marketer.
Even if you were to lose everything, the names and contacts in the list should be enough to put you back on your feet, and to do so quickly.
So, should you be putting links in the e-mails that you send to your list? And if so, how often?
The short answer is yes, you should include links. And, moreover, you should always include links.
In fact, there's a really simple rule:
Link to one site per e-mail
The reasoning is simple.
The link is your 'call to action'. You want people to something when they read your e-mail, and, regardless of everything else, you want them to click on your link.
Why link to one site? Why not put multiple links in?
It's because when you give people choice they can get overwhelmed. They might not click on any of the links. You'll almost certainly get more clicks to a single site then you would in total if you split traffic over multiple sites.
So, it's a really simple rule.
Here's what a really simple e-mail in my Aweber autoresponder looks like (yes, your e-mails can be short).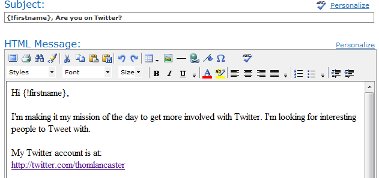 Now, you can repeat the same link more than once in a single e-mail. I wouldn't recommend it for a short e-mail, but if it's a long one, try and make sure that the link is always visible on the page, no matter how far into the e-mail the person reading it is.
So, there you have it., A simple strategy for linking in e-mails used in an autoresponder.
Want to add some other ideas about linking? Go ahead and reply using the comments box.