Or is it?
I suspect that, for most people, working just four hours a week won't be realistic, or even possible (I can't just switch off after four hours).
But what I am going to do in this post is to show the highly successful four hour strategy which I use on many of my niche sites to keep them running for a month at the time in four hours.
The secret is batch production.
Set up the blog, the products and the autoresponder in a four hour blog.
The diagram below shows you how it's done.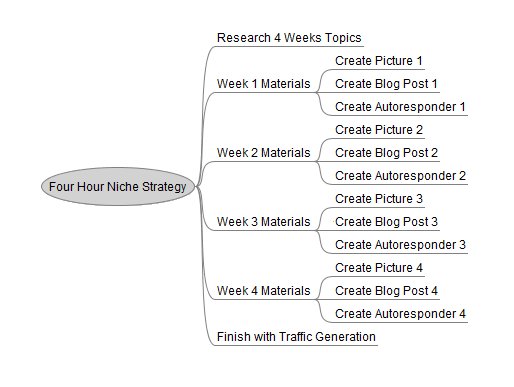 It's all about working for a month at a time, and getting your blog and autoresponder synchronised together to sell your site and to sell your projects.
Start off by researching four topics to write about (one for each week of the month). You can use whatever your usual best method is for blog research.
You want topics that work well together and you can write about one after another.
Next, find a picture for each topic to draw topic from Google images.
Compose the four blog posts in WordPress, with the pictures, and with your affiliate links or promotional strategies, and queue these up to be released once per week.
Now, go to your autoresponder and create four posts, each of which goes live just after the blog post, and will direct people from your list to your new blog post.
With practice, you can get all that complete in two hours, so use the rest of the time to promote your site. Add some more autoresponder messages, identify products to promote, write articles for traffic, it doesn't really matter. The important thing is that your site will keep running on autopilot, and, in the right niche, that means that it will make money.
So, can you really have a four hour work week. Well, if you have four niche sites you could alternate, one a week, and then you'll be a long way towards your goal. And all without outsourcing a thing.
Any other ideas to work for a four hour week? Just reply below and share them with the community.