When I first cut my teeth on digital networks, it was via a set of online discussion forums called Fidonet. This was in the early 90s, the days before many people had access to the Internet.
As the Internet rolled around (and I'd like to think I was an early apopter) it was possible migrate across to a more widely syndicated set of online discussions, called Usenet.
Now, Usenet used wasn't like an online forum or message board. Instead, it was a set of discussions which you would generally download, compose a set of replis whilst you were offfline (telephone charges to access the Internet were expensive!), then next time you were online you would upload them and download a newer set of discussions.
To this day, Usenet is still available, and there are many thousands of interesting archived discussions, but one of the easiest ways to access it is through Google Groups.
Enthusiasts in many areas (particularly technical ones) still use Usenet for discussions and the groups are still active.
So, how about using Usenet for marketing purposes? Pharmacie Qui Vend Viagra Sans Ordonnance Acheter du asgg.fr/ pilules en ligne.
First of all, you have to find appropriate groups to post in. This takes a bit of trial and error, as, unfortunately, the current Google Groups interface is quite clunky.
I suggest instead using Newzbot Search to identify the names of appropriate groups:
For instance, here's a search for diet.

And here are the first few results from the search.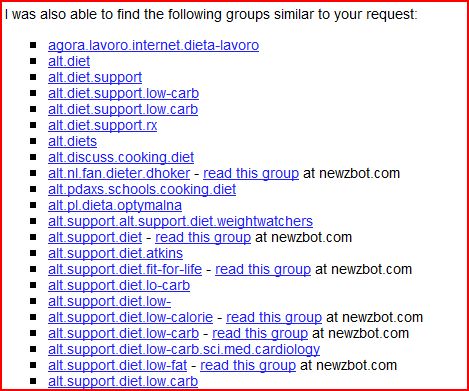 Now, you can go back onto Google Groups and type one of the group names into the search box. Take a look around the group. Is it active? Does it look like a good place to advertise?
If it does, go ahead and use whatever your best marketing tactics for online discussions are (hint: think about the forum marketing tactics you use). Just don't spam!
Have you got any other ideas about Usenet Marketing? In particular, do you know any better ways of identifying groups? If you do, hit Post Comment and you can share your thoughts with the world.