I want to outline a system that I think would be a very effective way of promoting Warrior Special Offers. It's a twist on the ideas of niche sites, and also a site that I created, but taking advantage of the fact that WSOs convert far better than many other types of products.
So that the process is manageable, I've broken it down into four simple steps, which I think are replicable. These form the Niche WSO Affiliate Site System.
Step #1 – Decide On A Site Theme
The very first thing you need to do is to decide on a theme for the site. This is going to be an area of Internet Marketing which will be of interest to as many Warriors as possible, and which will also give you sufficient scope to find Warrior Special Offers to promote as an affiliate.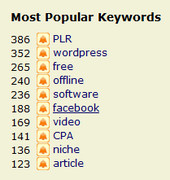 You could go for a theme which is very timely (for instance, Facebook Fan Pages are popular right now). Or, you could go with a theme which is likely to provide you with a continual stream of new WSOs to promote (for instance, article marketing has stood the test of time).
If you're a member of Warrior+Plus, one way to quickly find out what WSOs are popular is by using the Alert System. You'll see the list of Most Popular Keywords, an example of which is shown to the right.
It's also a good idea to choose an area in which you have some personal knowledge and interest, as this will help you to create a better site.
Register an appropriate domain. I'd suggest using the word 'wso' in the domain name, as it's valuable phrase. You could try mykeywordwsos.com or mykeywordwsoreviews.com.
Step #2 – Set Up The Site
There are many different ways to set up a web site, which are all beyond the scope of this post, but what I'd strongly recommend the use of a WordPress blog at the domain you registered.
Just hunt around until you find a theme that you like. Something simple works best.
For instance, here's the site I created related to WSOs on succeeding with Warrior Special Offers (a niche market in itself).
An enterprising theme creator could do very well creating a theme that's reminiscent of the Warrior Forum (and which makes this process easy).
At the minimum, you need to set up an area delivering news and information, and a separate area delivering reviews of appropriate products. You'll do much better with the site if you have some content to draw people in, rather than relying solely on the WSO reviews.
Try and set the theme up to get some good content on the landing page of the site, as this is the first page that many people will visit. If you're not sure how to set up WordPress blogs, it's often more efficient just to pay an outsourcing worker to set this up for you, so that you can concentrating on creating the content.
Step #3 – Add Quality Site Content
You need to add content that will be of interest to visitors before you even think about adding affiliate reviews.
I recommend creating unique content, as this is most likely to bring you search engine traffic, although you could also a number of PLR articles on your topic.
One good method to create content is simply to look on the Warrior Forum itself and find out what kind of questions are being asked by people interested in the niche that you've zeroed in on. These can form the basis for short articles.
A general introduction to the area that you've chosen is also always good.
Continue to update the content even when the site is well established. There are always news items which you can work enough to form short posts. The odd piece of very high quality exclusive content is also a good way to maintain regular readers, who will then also check out the product reviews.

Step #4 – Add The Affiliate Reviews Of The WSOs
This is where you make the money – by providing an honest appraisal of the different Warrior Special Offers in the field.
You need to be a Warrior+Plus affiliate, and to search through the list of WSOs which pay instant commission. You'll want to start off with at least two or three reviews.
I strongly recommend that you buy the WSOs. You can then provide a high standard review of them, pointing out both strengths and weaknesses. Make sure that your blog post is based around the title of the WSO, and that you can include the title in the post, along with a couple of affiliate links.
I like to include an image too (often a screengrab of the WSO), as this can draw in traffic from Google Images.
If you really can't afford every WSO, you can put together posts summarising the views of other people as indicated in the WSO thread. I would recommend that you're up front about this. Use a sentence like "people who purchased this WSO said…" You can always update the reviews at a later date.
A 'Recommended Offers' or 'Recommended WSOs' section is a good idea where you point out the 'must buy' WSOs in the niche your site is based around. WSOs will always vary in standard, and you'll identify some that are much better value than others.
Continue to update the site as more WSOs come in. You can sign up for keyword-based notifications from Warrior+Plus, which is useful to let you know when new WSOs in your niche are released.
Expanding Your Results
That's the Niche WSO Affiliate Site System in a nutshell, but there are various ways to expand this and improve your focus towards your overall goals of providing good information and receiving affiliate commissions.
A very important factor is to keep this site up to date. There are WSOs being released all the time in different areas, and there is a strong advantage to being one of the first affiliates to the high quality WSOs. Make sure that you continue to repeat Steps 3 and 4 as you look to add more content.
As you look to scale, you might look for ways to automatically add appropriate WSOs. You could hire an outsourcing worker to do this. Or, you could look to develop a simple piece of software. There was briefly a piece of software available on the Warrior Forum which would aid with this, but it's not a difficult task to program, and you could hire a low cost worker to help you with this.
You should definitely set up a method of email lead capture for the site. You're getting a lot of valuable prospects who are interested in a particular areas of WSOs, and this offers you a mechanism through which you can contact them when you have a new review or feature added to the site, or spot a product which you think will be of interest to them.
You can also look to the WSO Forum to bring you traffic directly to the site. Create a simple free (or low cost) WSO on the topic in which the site is about. Deliver this on the site itself, which will make buyers aware of it, and make sure you advertise it in the product too. You may also want to advertise the site in your Warrior Forum signature.
The other tactic you can use is to create more sites. There are many very good domains to do this still available for all areas of WSOs, and the 'first person advantage' is always worth striving towards.
Definitely involved with the Niche WSO Affiliate Site System right now, as it has the potential to be very powerful for you.
Over To You
I always welcome comments and opinions on my blog posts. They really add to the overall quality of the blog.
Have you ever set up a niche site promoting WSOs, or can you see a way in which you could work these into one of your existing sites.
Can you think of any ways to improve this system.
Just use the reply box to share your thoughts on the Niche WSO Affiliate Site System.