I should be charging you $47, but...
This Exclusive 60 Minute Video Training Is FREE For You
Reduce Your Internet Marketing Learning Curve And Discover How To Be Successful Online Right Now!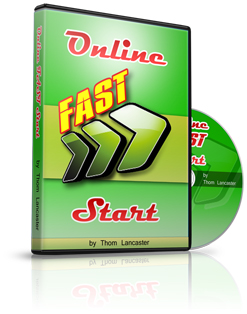 Online FAST Start Also Comes Complete With An MP3 Audio Version And An Enhanced PDF Version
I've compiled this unique training for you from my own years of Internet Marketing experience, to show you how you can develop an enjoyable and profitable business.
I want to share with you the online tactics that have worked with me, and help you to take full advantage of the best online marketing opportunities.
When You Devour Online FAST Start, You'll Discover...
Why Online Marketing has changed (most marketers are unaware that this has happened) and how you use this hidden knowledge to your advantage to stand out from the crowd
How to rid yourself of unrealistic expectations of Internet Marketing (never buy another "get rich quick" product again)
The little-known reasons why I choose to market online... and how you use reasons these to identify your own strengths and develop a business that can bring you in a useful second income...
Six business models that are working really well for marketers right now (I'll even show which one I recommend and which brings me most of my own business)
My easy three-step action plan designed to stop you floundering and drowning in information that is totally unnecessary for your business
I know that I should be charging at least $47 for Online FAST Start - and I do plan to start charging in the future, so I recommend that you claim your free copy now.